With the wide range of student ages that I teach, I found ways to divide my supplies to give each level their own space and responsibilities.
I have given the elementary students kits that have markers, pencils, and colored pencils in them which match the colored table they sit at. This gives them a feeling of connection to the room and the opportunity to get their own supplies but make it easier for them to accomplish.
Each cubby in my kits system is numbered in a specific color that matches the kit that is accompanied with it. The colors coincide with the colors of my tables, which are wrapped in kraft paper to help with basic clean up time. Each table gets two kits, example my red table gets kits number 1 and number 7. I have six tables which are the colors of the rainbow. This system allows the younger students a chance to get their own supplies, help with setup and cleanup, as well as give them their own responsibilities.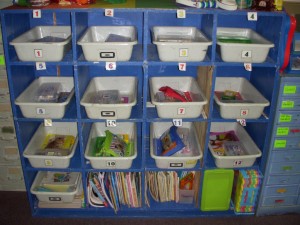 While I have the older students supplies separate and in various locations where the elementary are not allowed into, to give them a sense of trust that comes with the older ages. I have labels on everything that is accessible for the students so that they can finds things easily (if they decide to take the time to read them!!!) as well as a way for me to explain where they are located.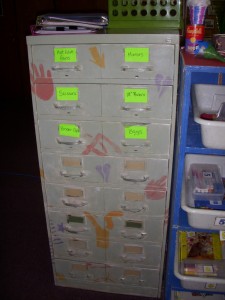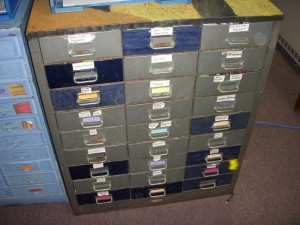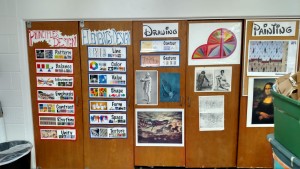 Each of the students are responsible for getting their supplies out, cleanup, and taking care of the room to ensure that it is ready for the next students, no matter the age. This system has worked very well over the several years that I have perfected it, the students seem connected to the room and feel as though they are apart of the everyday events.