With my room I have been having fun creating decorations that relate to some sort of theme. I have also spread that theme into the students projects as well as different activities throughout the school. Here are some of my video game inspired decorations!
I am lucky enough to have two doors to my classroom. I have a student door and I have a "teacher" door. For my student door this school year I decided to have Pokemon battling in a classic Gameboy! So many fond memories for me and a connection to students who are just getting into the games!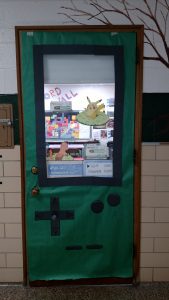 Since I have so many different age levels of classes I like to have the students activities for the day listed on the board. To entice the students to look at the board I create a drawing for the month which relates to my theme. I teach in multiple classrooms because I also teach Computers so I make sure that the boards match each other in theme across the rooms! Here are a few that I created this school year.
I have a few boards in the hallways that I like to create or have students create decorations for. This school year I decorated them with Minecraft and Pac Man to get a variety of generations excited about Art!