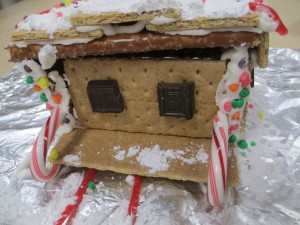 I have been challenging my High School students to look at Art in different ways and find where the talents, that they possess, can be used. One way that I have them seeing Art in everything is through a unit on creating Gingerbread houses, which is food art! How can someone go wrong with food Art! For the past couple years I have had the students create Gingerbread houses before winter break. The students love creating with food and gives them a chance to create unique pieces!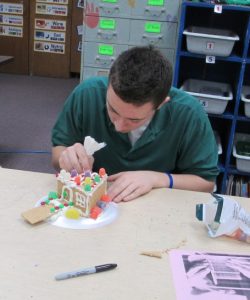 I have had the students creating these houses for the past couple years during their exam time. Thankfully I am not forced to create a written test to challenge them during that time frame which allows us a longer class period to create these large scale works.
Before the day of, the students have many things they have to do to prepare for this event. First we work on designs. The students practice drawing what they want their houses to look like, they also decide on if they want to create the piece by themselves or if they want to work in teams. They have to decide on what types of candy they would like to incorporate in their designs and figure out what each of them are bringing! If they are working in a group they are also have to get the base for their creation.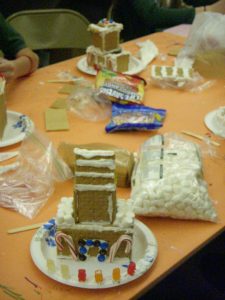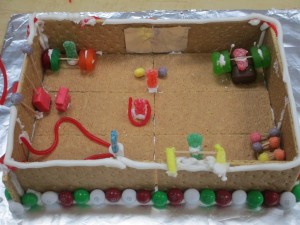 For the project I provided each table with a box of graham crackers, paper plates and a bag of icing that they would need. I bring my mixer with me to make the icing as the students are working as need be. I make a royal icing that can hold up to the candy and the kids crazy creations!!
Lucky enough for us as well, the school's head Chef is also an amazing cake decorator and she comes in to the classroom and shows off her tricks of the trade!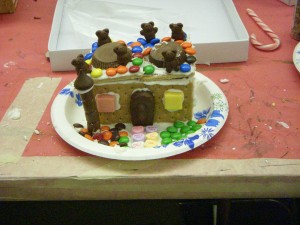 The students have come up with some very interesting designs, they have also brought in so many unique supplies and worked well by sharing the goodies across the room! By far it is one of the things that my classes look forward to each year!